This site is best viewed with IE 4.0 or later at 1024x768.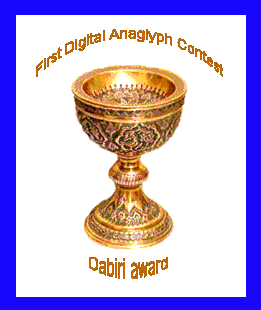 Top Ten Anaglyph pictures













Alain Hamblenne - St. Jacques

(Winner of the first position awards)
Frans Van de Poel - Semois Rock

(Winner of the second position awards)
Owen C Western - In Debt

(Winner of the third position awards)
Imre Zsolnai-Nagy - Sky

(Honorable Mention award)
Wojtek Rychlik - In the cave

(Honorable Mention award)

David W Kesner - Sharing The Rose


Barry Rothstein - Fairlyland Mushrooms


Ray Desjardins - Winnie the Pooh's Picnic


The first international digital Anaglyph contest: Dabiri award 2005
has been judged by:
Dr. Shahrokh Dabiri
Mr. Faramarz Ghahremanifar
Mrs. Maryam Ashtarynasab
(Best congratulation to you all, May 2005 -Tehran, Iran.)

Join the Anaglyphs group then you would see more great Anaglyphs there !