This site is best viewed with IE 4.0 or later at 1024x768.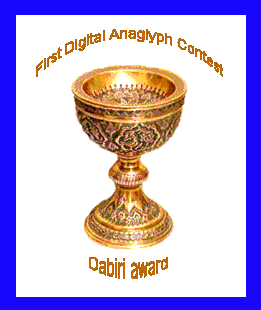 Welcome to the
First International Digital Anaglyph Contest:
Dabiri Award 2005.
Exhibition Site













Welcome to the Exhibition Gallery of the First International Digital Anaglyph Contest: The Dabiri Award, in which you can view the anaglyphs entered for the competition. The Exhibition is a celebration of anaglyph art. Judges and participants alike hope you find much to please you and that you may draw inspiration to make your own anaglyphs!
The Dabiri Award judges wish to express their especial thanks for the support of the contest sponsors who generously donated the awards listed below:
1. Loreo company www.loreo.com
Loreo 3D Lens in a Cap complete set.
Loreo Photokit MKII complete set.

2. Dr. Shahrokh Dabiri

The contest organizer and benefactor of the winner's cup: the Dabiri Award.

3. Dr. Imre Zsolnai-Nagy www.conversion3d.fw.hu
Two beautiful cups for the second and third placed entrants.

4. Mr. Faramarz Ghahremanifar www.stereoscopy.20m.com
Four nice viewers of standard stereo cards.

5. Mr. Allan Silliphant www.anachrome.com
10 pairs of beautiful anaglyph spectacles.














Salutation
Today so many of us are able to enjoy making great anaglyphs or stereo pictures with only a few clicks on our computers using the versatile and powerful free software, Anabuilder by Etienne Monneret, or, Stereo Photo Maker by Masuji Suto. Anabuilder is the most sophisticated tool available for the most demanding of stereo enthusiasts. Stereo Photo Maker, gives 3D enthusiasts, from beginner to expert, a simple and effective way to make great images. These wonderful and easy to use programs have made creating stereo images a possibility for thousands of people worldwide. Each and every person who enjoys 3D photography owes Etienne and Masuji a debt of gratitude for their many hours of dedication and their philanthropy to the stereo community. I extend my sincerest respect to these gentlemen.
Sharokh Dr. Shahrokh Dabiri 04.05.2005.













1. The Winners and the Top 10 Anaglyph Pictures
5. All partecipant's Anaglyphs
Join the Anaglyphs group then you would see more great Anaglyphs there !